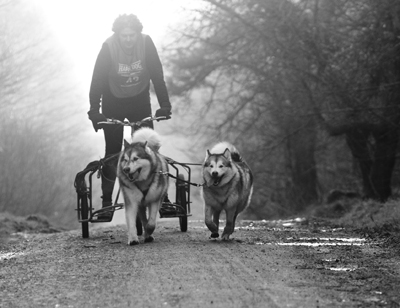 In the UK we don't see the snow regularly enough to guarantee 'Snow Rallies' so instead we have adapted our equipment so we can still enjoy working our dogs in harness even if only as a taster for a short distance!The equipment consists of a 'Rig' which is basically a metal frame with two footplates for the musher to stand on, with brakes (mainly for downhills with Malamutes

), handlebars the same as a bicycle, and with 3 wheels for stability..
The dogs are attached from the front with specialised 'Lines' or rope which then attaches to the back of their specialised harnesses.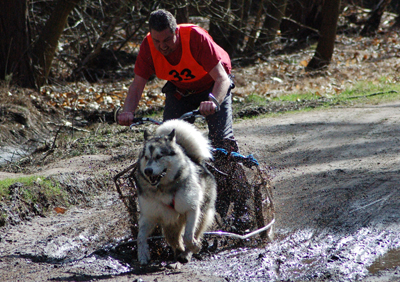 Events
If you feel you would like to have a go at the sport of 'Dryland Sprinting' then there are a few organisations in the UK who run organised & insured events.. These mainly take place in forests with permission of the landowner.
Depending on the size of your team there is a class to suit most. The trails are a few miles long based on a time trial system.. usually with a 1 or 2 minute gap between teams at the start.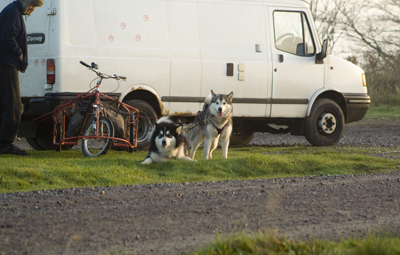 Trekking
If a gentle trek for a longer distance than 3ish miles appeals more to you then this is called 'Trekking'. at present there are only two organisations in the UK to offer this as an organised event. These being AMWA & AMCUK. Weather dependant the trails are up to 22 miles long and most importantly are 'untimed' focusing more on the original function of the freighting Sled dog.
You can of course go it alone without attending an event but you must have permission from the landowner to do this.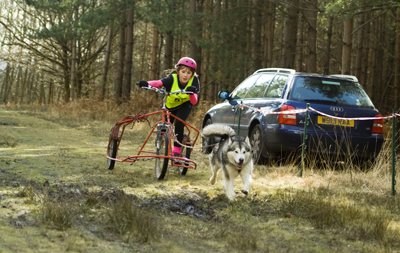 Juniors
We are very passionate about the next generation of 'Mushers' taking part in 'rig Work'. All our children are actively encouraged to take part with one of our Mals at organised events.
There are normally 1 or 2 classes for juniors based on the age of the child, the younger class is supervised by an adult alongside on the trail, the older class is unsupervised. The classes consist of mixed purebred northern breeds and are heavily marshalled for safety.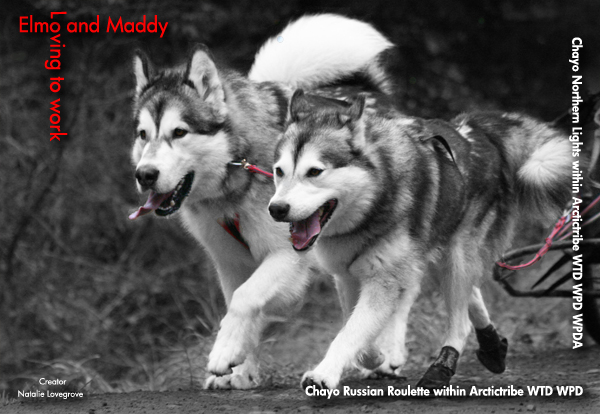 Elmo & Maddy competing at The very 1st Wyedean Quest 2009, this was the final and fourth race in under 40 hours..