Below is a basic introduction to showing your pedigree Alaskan Malamute in the UK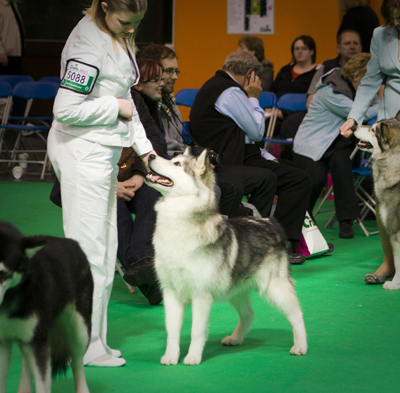 Championship Shows
These shows are where you could make your dog up to become a Champion. This requires your dog to be awarded with 3 'CC's' (Challenge Certificates) This is achieved by winning 'Best Dog' or 'Best Bitch' where Challenge Certificates are on offer for your breed.. 'Not all Championship Shows offer this award' There are more classes as well as higher entries per breed compared to Open Shows. The cost per entry is a lot higher than that of an Open/Limit Show and you usually have to purchase your own rossette for any placing 1st to 5th. You might however have a greater chance of qualifying for Crufts at these shows.. please see the link below titled – 'How to Qualify for Crufts'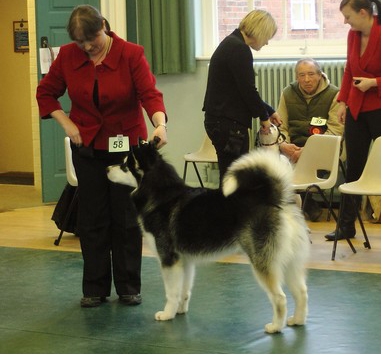 Limit Shows
These are member only shows although most clubs/organisations will allow you to join with your entry. These shows are not Crufts Qualifiers but most are held on the group system, so it will give you an idea of how most Open shows are run. Generally they have a lovely supportive atmosphere. This is helped by the size of the show being on a smaller scale than that of an Open or Championship show. The cost to enter is very reasonable, rossettes are usually free and refreshments are available at a minimal cost.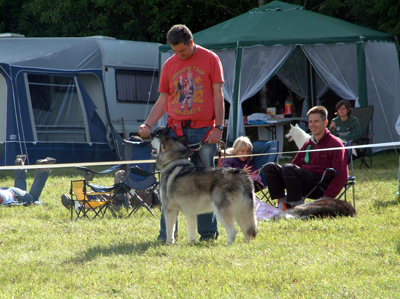 Fun/Companion Shows
These are fun shows in which you will have mixed breeds and sex classes. They are normally held as part of a local town or village event, and are the perfect shows to practice with your puppy This is also a great type of show if you have children as there is generally lots going on to keep everyone happy!.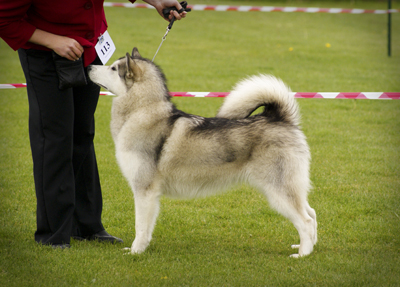 Open Shows
Open Shows are the next step up from Limit Shows. Non members & members of the governing body can enter, and they generally have breed classes in the relevant group. If your breed is not listed you can enter into 'AVNSC' – Any Variety Not Seperately Classed. As many of these shows have breed classes it's a nice way to meet other people who own the same breed as you. The cost to enter is generally on par with the Limit Show & the Rossettes are either free or are available for a minimal amount.
LINKS
A glossary of terms for most types of UK Dog Shows
For further info please go to our Links page under 'Showing Organisations'