December
A very busy month here at Arctictribe!
The 27th of this month see's Ayla and Emme complete a 7.5 mile Trek with Natalie under AMWA across some tough terrain, we are very proud of them especially as AMWA deemed Ayla responsible enough to be the first junior to complete a trek of this nature. Muddy pictures to follow!!
A week before xmas we get a phonecall from the local newspaper, asking if they could run a story about our adventures with our Alaskan Malamutes.. Click on the pic below for the story!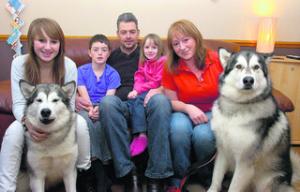 On the 11th we attend Ringwood, ABSA who hold their third UK Championship event of the season..Ayla and Emme compete in their J1 class… We are all thrilled when they are awarded 2nd place.. the other 4 teams all consisted of 2 dog Siberian Huskies!!
Huge well done to both of them..
The start of this month we all trek up to Sherwood Forest to see Ayla and Emme gain another respectable 3rd Place..both smiling crossing the finish line.
Mark and Elmo went round the trail and came in a very good 8th place out of 13 teams, what made us especially proud was that Elmo consistently pulled Mark around the trail with hardly any scooting needed from Mark..Elmo is not the most confident dog when out in front on his own so this was really lovely to see that his confidence has obviously grown.
November
This month sees Emme start her Dryland Racing career and she's off to a flying start.
At her first race with Ayla they come in 3rd place, the only 1 dog team and only 7 seconds behind 2nd place.. Well done girls!
At Emme's second race with her friend Knight, sees her take a very proud 1st place over a weekends racing.. really brilliant result, this was also Mark's first trophy and you can't get better than 1st!!
Also this month Emme completes her WTD Working Team Dog requirements, she did this in four trips totalling 49 miles. Subject to certification Emme will be known as:
*Chayo Out Of The Blue within Arctictribe WTD*
October
This month we receive Maddy's WPDA certificate from AMCA.. 'Working Pack Dog Advanced' Total distance of 80 miles with overnight campouts carrying 30% of her bodyweight.
She is only the 7th Alaskan Malamute to gain this title.
You keep on trekking where ever you are baby girl …
'Maddy' forever in our hearts *Chayo Northern Lights within Arctictribe WTD, WPD, WPDA*
September
We have been out having fun trekking across the plains, mostly at night when the temps are at their coolest
Emme has taken to working like a duck to water, her lines are tight, tail up, head down..
August
Emme and Ayla start their training for the J1 season and are both having loads of fun!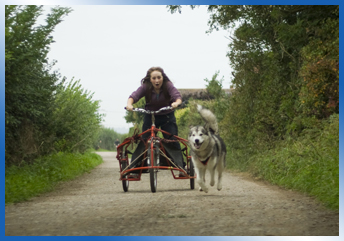 May
It is with great sadness we announce that Maddy 'Chayo Northern Lights within Arctictribe' has passed over the bridge
we are all devastated at the loss of such a wonderful lady.. please click on 'The Bridge' a special page dedicated to Maddy..
Emme's last show of the month at AMCUK Speciality show sees her winning Best Puppy Rescue Stakes!!
she also won 2nd in Puppy Bitch & 2nd in the Junior Dog/Bitch Rescue Stakes
Another outstanding result at Marlborough & District CS, sees Emme 'Chayo Out of the Blue within Arctictribe' win's
1st, then Best Puppy in Breed, if thats not good enough she then takes the Working Puppy Group!!
May starts off really well with the whole family attending a local Companion Show
and seeing Emme taking Best Puppy in Show!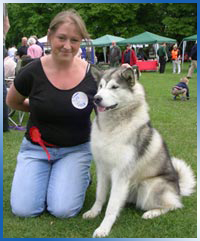 April
Wonderful Showing news sees Maddy being placed as the UK's 19th Top Malamute Bitch for 2010 in the
Alaskan Malamute Club UK Malamute of the year awards!!
Another 1st place for Emme at WELKS Champ Show and wonderful family news
Emme's mum 'Chayo Elise' is awarded with her first CC!
March
Maddy enjoys her day at CRUFTS strutting her stuff on the green carpet.
We are very proud of Maddy for achieving this qualification
A great start to another month sees Emme winning another Best Puppy
and then being placed 3rd out of 25 in the minor puppy stakes!!
Febuary
Another wonderful result for Emme, at a local show Emme wins 1st, then Best Puppy in Breed, then she goes on to win the Working Puppy Group, but even better still she also wins Best of Breed and then the Working Group! beating the adults at just 7 months of age!
The ABSA Championship Season draws to a close seeing team Arctictribe winning 4th Place in EF!!
And our Junior team 'Ayla and Maddy' winning 3rd place in J1 over the season,
really great results.. the effort and training paid off
Emme has another great show result at an open show winning Best Puppy in Breed
and then being placed a fantastic 2nd in the Working Puppy Group out of 10 winning puppies!!!
January
To end the month Ayla and Maddy win 3rd place in the J1 class at the ABSA Wareham Rally!
Emme starts off the year for Arctictribe with some great results
She wins Best Puppy in Breed at an open show
then wins RESERVE at her first Champ show with double figure entries,
she also gets shortlisted to the final 7 in the ProPlan Puppy Stakes out of 84 entries!!!
Later in the month Chayo Out of the Blue within Arctictribe wins
1st, making her Best Puppy Bitch then Best Puppy in Breed at Manchester Championship show!!