**** Arctictribe's Highlights of 2014 ****
3rd place UK rally Champion – 2nd place UK Junior rally Champion – The 1st ever Silver UK backpacking title holder – 2 x Fastest all Malamute team wins – Reserve Best Puppy in Show – Stud Book Number – Lifetime Crufts Qualification – 2 x Crufts 2015 Qualifiers – Reserve Challenge Certificate – 2 x WPG1 – 4 x WPG's
December
Another busy month of racing events with double figure class entries sees more smiles from dogs and humans alike..
another set of great results…
2 x 1st Places
1 x 2nd Place
1 x 3rd Place
1 x 5th place
November
A very busy month seeing Arctictribe attend 4 rallies.. all of which are 2 day events, most of which had double figure class entries..
Penny and Sampson continue to show us what they are made of.. slowly building stamina through training and racing.. Sampson is proving to be the driving force with Penny following his lead and matching him in strength.. this season was all about having fun and confidence building.. but it seems these two intend on taking things to the max….
Leo shares the racing with Sampson's sister having lots of fun ..
Out of all stages both adult and Junior classes they come home with
2 x fastest all Malamute team
2 x 2nd fastest Malamute team
5 x 1st Place
2 x 2nd Place
2 x 5th place 
Wonderful results for the start of the season..
October
Let the racing season commence!!!! Arctictribe's favourite time of the year approaches…
Our first rally is at Kings Forest, Thetford.. a 2 day event totalling 6 miles in the adult class & 2 miles in the Junior Class.. Penny and Sampson do fantastically at their 1st competitive event in the adult class with Mark, coming 5th out of 17 teams!! – they were also the youngest combined team of the event.. !!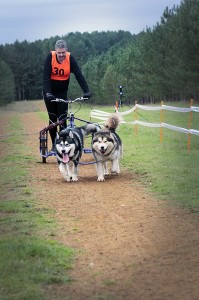 Leo runs with Sampsons sister 'Memphis' showing her the ropes..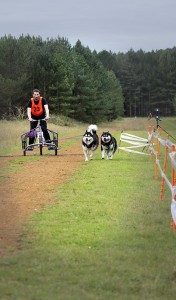 Penny then runs the Junior class with our son 'Hayden' (unsupervised) and gain a podium place finish coming 3rd and also fastest Alaskan Malamute in class!!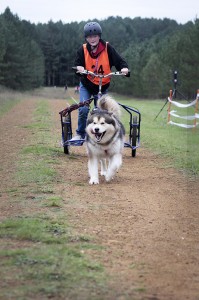 Leo also takes our daughter 'Keira' round the supervised Junior class.. A really wonderful weekend was had by all ..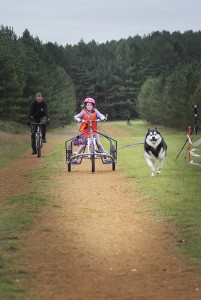 August
This month is always a good one due to our annual holiday at the AMWA fun/training weekend, but little did we know what else August had in store for Arctictribe……..
At Bournemouth Championship CC show Sampson absolutely blows us all away winning not only 1st in a very strong Junior class (his 1st class out of puppy).. but he then is awarded with the Reserve Challenge Certificate!! wow what a moment that was.. he gains life time CRUFTS qualification AND his KC STUDBOOK NUMBER at a tender 13 months old……
The day's wonderful results didn't end there!! .. seeing 'Leo' win 3rd in Postgraduate Dog qualifying him for CRUFTS 2015 at only his 2nd Champ Show this year!! – this means he has qualified every year so far …..
At the end of the month we go on our annual holiday with AMWA, once again the tribe have a brilliant time away and get to chat & laugh with friends 'old and New' – This year sees Natalie judging the novelty classes and also award the very first 'Best Working Dog In Show' award..
July
This month sees birthday cake galore… Penny and Sampson turn 1 yr old and Leo turns 2 .. they were all thoroughly spoilt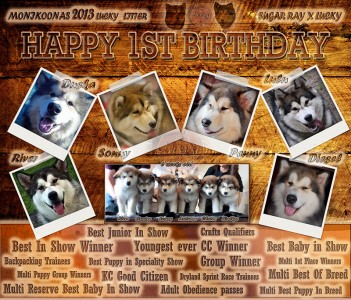 Also this month Arctictribe gets some wonderful health test results.. Both Penny and Sampson have very good and Excellent Hip Scores.. (please see individual pages for full scores)
June
This month see's Sampson win 2nd place in his last puppy class at Three Counties Championship CC show.. and he was very out of coat!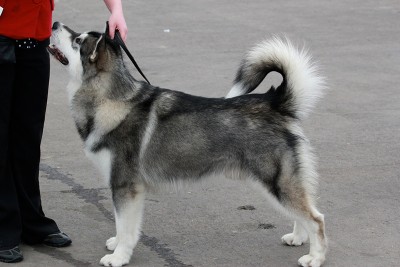 Leo gains a 3rd place at a local show in a mixed breed class Penny is the star of the month winning 2 x 1st Places at the same show!!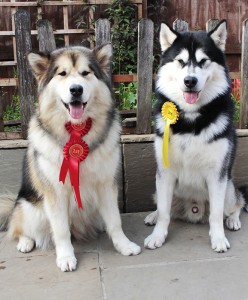 May
The weather is warming up so Arctictribe attend a few shows.. this month collectively the tribe do very well being awarded the following: 1 x 2nd ' 5 x 3rds & 1 x Reserve These results are from Championship and Open shows
One of these awards however has a very special meaning.. Sampson at only his 2nd Championship qualifies for Crufts 2015!!!
Sampsons litter sister Sabine also qualifies for Crufts 2015 at the same show!!.. huge well done to the babies
April
The Awards for UK Show Alaskan Malamute of the UK for 2013 are out and wow did Leo do well.. In only 10 shows and only 5 in Puppy he is awarded with the following:
3rd Top UK AMCUK Show Malamute Special Beginner Dog 2013 7th Top UK AMCUK Show Malamute Special beginner 2013 7th Top UK AMCUK Show Malamute Puppy Dog 2013 13th Top UK AMCUK Show Malamute Puppy 2013 19th Top UK AMCUK Show Malamute Dog 2013
Leo attends his 2nd weightpull competition and gains a well earned 4th place!
Sampson and Leo attend WELKS Championship show and what superstars they are.. Sampsons first Championship show and only his 6th in total he wins RESERVE in a stunning Puppy Dog class!! Then in a humungous Postgraduate Dog class 12!! Leo wins VHC!!!.. we're very proud of the boys not just for the placings but for their fantastic manners at such a big show..
Family news at WELKS Championship show sees Sabine (Sampsons sister) win VHC in Puppy Bitch River (Pennys sister) wins RESERVE in Puppy Bitch And Sonny (Pennys brother) pulling everything out of the bag to make Malamute history!!!! Sonny 'Monikoona Most Wanted' win 1st Puppy Dog' Best Puppy Dog' BEST PUPPY IN BREED' then winning the Dog CC.. and then winning Best of Breed!!! Sonny is only 9 months old and is now the youngest Malamute in history to win a CC also gaining his stud book number and qualifying him for CRUFTS for life!!!
The Awards for UK Working Alaskan Malamute of the UK for 2013-2014 are out and yet again Leo made Arctictribe extremely proud
In Leo's first working season he came 6th in the whole of the UK for the Working Malamute 2013-2014 award.. Leo is also the only UK Malamute Puppy to be awarded a dual working and showing award in 2013-2014!!
This award is through a combination of sprint racing and weight pulling.
March
A fabulous start to the month sees Sampson ruling the ring once again…. He yet again wins his Junior class 1st Junior, yet again he is awarded with Best Puppy in Breed, and then is awarded with yet another Puppy Group.. this time WPG2!! and still only 7 months old!
The very next day see's Leo and Ria attend the last race of the ABSA UK Championships 2013-2014 with Vikki.. they have a lovely run and work so well together, they come in 4th on the day but the overall Championship result is outstanding.. Arctictribe are very proud to announce that Leo and Ria win an amazing 3rd place in the Last ever ABSA UK EF Championship, we are hugely proud considering this was Leo's first ever working season!!
The next evening not to be outdone and miss out on the awards 'Penny' 'Monikoonas Lucky Penny within Arctictribe' passes her adult Bronze obedience level.. well done Miss Penny!!
Just 4 days later sees 'Leo' strut his stuff at the Worlds Greatest Dog Show 'CRUFTS' although unplaced he was a pleasure to show, we had a lovely time posing on the green carpet.. Leo more than earnt his place seeing him qualify for CRUFTS at every Championship Dog Show he attended last year.
Family news at CRUFTS saw Penny's brother 'Sonny' Monikoonas Most Wanted win a well deserved 1st Special puppy Dog and then go on to win BPIB' Best Puppy in Breed' Her stunning sister 'Lulu' Monikoonas Lucky Charm also does very well being placed 2nd in Special Puppy Bitch.
Leo attends his first ever weightpull competition and pulls in a very respectable 3rd place in his weight class!
The end of the month sees 'Leo' and 'Ria' battle the trails together for their very last last to complete a full 2013-2014 rally season at AMWA Swinley.. On the final race they come 4th place which also awards them 5th place in the AMWA 2013-2014 UK Championships with Mark as musher. Huge well done team!!
February
The happiness and success continue this month….
To start the month wonderful family news sees Sampsons sister 'Sabine – Northspirit A Star Is Born' win the following awards at her very first show… 1st Junior, BPIB, and then WPG3 .. very well done Sabine!!!!
Sampson has an absolutely amazing time at his second show.. 7 months old to the day… Firstly he wins his puppy class, then is awarded with Best Puppy in Breed, and then is awarded with another WPG1!!!.. but it doesn't stop there… Sampson struts his stuff in the BIS line up..(his second time in just 2 shows!!!) .. and is then awarded with RBPIS!!!!!!! We are absolutely over the moon!!
**** RBPIS Northspirit Born For Glory within Arctictribe ****
On the same day in the evening Leo and Ria battle the trails at ABSA's Rondy By Night and gain a very respectable 3rd all Malamute team.. they had a lovely time together once again….
A week later Leo and Ria once again battle the trails.. this time at AMCUK Yately with Mark, the team work so well together and win 2nd place!!
Sampson and Leo attend a show together and both come a respectable 2nd place in both their classes.. well done boys!
Sampson attends a mid week show at the end of the month and wow's us yet again with the following.. Firstly he wins Junior class 1st Junior, then is awarded with Best Puppy in Breed, and then is awarded with another Puppy Group.. this time WPG3!!
Family news sees Sampsons sister 'Sabine – Northspirit A Star Is Born' win the following awards at two more shows this month… 2 x 1st Junior, 2 x BPIB, and another WPG3 plus a WPG4!!
January
Firstly a very Happy New Year to everyone!!
The year starts off for Arctictribe with Leo and Ria completing a 2 day Sprint race in Wareham.. They come in a very pleasing 4th on the 1st day and a wonderful 3rd place on the 2nd day!!
The very next weekend sees Leo and ria attend another 2 day event with an amazing 2nd place overall!!!!
Other news sees Penny 'Monikoona's Lucky Penny within Arctictribe' start her adult obedience with great success..
Later in the month sees Leo and Mark complete the final 2 x 20 mile backpacking legs to complete Leo's 'Silver' award Leo is the very first Malamute in the UK to achieve this wonderful award and very deserving it is too.. no easy feat!!! so Leo's Sunday name will now be as follows:
****BPIS Weyekin's Light My Fire within Arctictribe AWPD(C)(B)(S)'WTD'WPD'****
To end the month our rising star 'Sampson' wows us with his awards at his very first show…..
On the day 'Northspirit Born For Glory within Arctictribe' wins his junior class '1st Junior', then wins Best Puppy in Breed 'BPIB' and then goes on to win the Working Puppy Group from a full Group!! WPG1 !!! we are over the moon with these first results…