Backpacking can be a very rewarding activity for both your dog and yourself. Unlike Rig/Sled work you share in the physical aspect of the activity by walking. It is done at your own pace and can be a great way to keep fit!.You choose exactly what the level of intensity is, i.e. – a pleasant walk along a flat towpath on a chilly bright day, to the complete extreme of mountaineering across the highlands being self sufficient!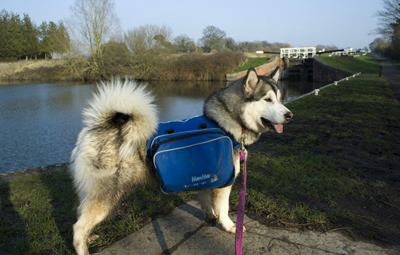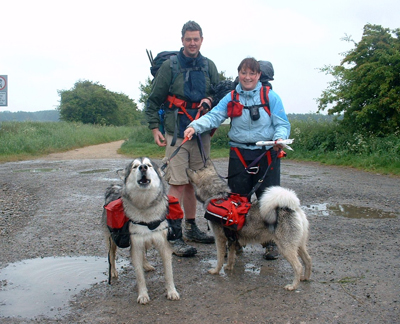 We started by introducing our first Malamute to backpacking on the walk to school. He carried the childrens books to and from school, this was a great way to make him feel tht he had an important job to do.If you feel you woul like your Malamute to gain recognition for his ability to back pack, there are awards he can work towards. These range in intensity of both distance and weight carried, they should not be taken lightly though. Proper consistent training should be undertaken by your Malamute and indeed yourself.. afterall your furkid will not be hiking by himself..
Basic Equipment/supplies
Backpacks (human and dog. Dog packs must be properly balanced when filled)
Strong lead
Walking boots
Waterproof clothes (even in summer).
Water (dog and human) + water bowl
Food (dog and human) + wet treats such as Cooked chicken or cocktail sausages/
High energy snack for humans
Map / route plan / GPS device (lots of mobile phones have this facility now)
Camera – for a memory of the day or if proof (evidence of walk) is needed for awards.
Mobile Phone
Money (for the pint at the end of the walk..)
Waterproof liners (can be as simple as large freezer bags, bin liners)
Spare socks (nothing worse than walking with wet cold feet for hours!)
Pen knife (they can come in very handy!)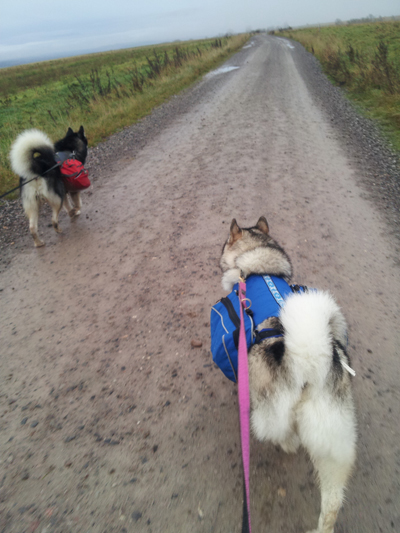 Titles
At present there are two organisations that run Backpackpacking Awards Schemes for Alaskan Malamutes.
These are 'AMCA' and 'AMWA'
Links to their individual Backpacking Schemes can be found below.
'AMWA' – The UK's 'Alaskan Malamute Working Association' Backpacking Award Scheme
'AMCA' – The USA's Alaskan Malamute Club of America' Working Dog Scheme
Backpacking related Shopping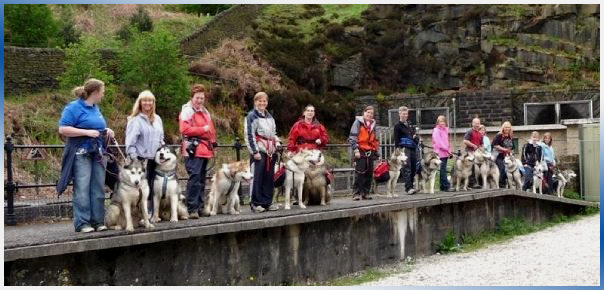 Maddy, Natalie & Ayla packing with a big group of friends, Malamutes and humans alike.
This was Maddy's first leg of her WPD