**** Arctictribe's Highlights of 2015 ****
1 x Best In Speciality Show – 1 x Best Bitch In Speciality Show – 1 x Best Opposite Sex In Speciality Show – 1 x Reserve Best Bitch in Speciality Show – 1 x Best In Show (AMWA FUN) – 3 x Junior Champions 2014/15, Sprint racing – 9 x Trekking Titles – 5 x Backpacking Titles – 2 x CRUFTS 2016 Qualifiers – The 1st UK Malamute to achieve both AMWA's Silver titles (Trekking and Backpacking)
December
Only 1 rally this month due to choosing Trekking over Sprint racing
AMWA Great Wood saw Mark and Sampson compete in M1 (1 dog Malamute class), what a fantastic weekend they have coming 1st on day 1, 2nd on day 2 – Winning 2nd overall!!
Keira races with Leo for 1 day and they win their Junior class and have the fastest time over all the junior classes!!
As was mentioned above this month was dedicated to trekking..
Penny, Sampson and Leo all complete regular training runs of ever increasing mileage.  By the time the AMWA Xmas trek comes around Penny & Sampson are more than ready to complete the highest mileage offered on the first day.. 38 miles in total in 2 runs with a couple of hours break for a quick nap!
On the second day Penny and Sampson complete 13 miles which in total is enough to earn them their AMWA Silver Plus UK Trekking title.
Leo takes part in the organised Backpack following the same trails as the Trek and completes his final AMCA Working Packdog Advanced leg – 20+ miles carrying 30% bodyweight over tough terrain! – Subject to confirmation Leo will add 'WPDA' to his KC name
The second day he joins Penny and Sampson and completes 13 miles trekking with team mate 'Rosy' owned by Suzy Fithern.
November
A very busy month for the tribe.. the start of the Working season.. the time of the year that we look forward to with gusto!!..
3 x 2 day Sprint Rallies & 1 x Trek..
3 x New Trekking titles for Leo, Penny & Sampson – AWTD'C will be added to their names
3 x 1sts in Junior Class
2 x 3rd places
3 x Fastest Malamute team in Bikejor and 2 dog freight class
6th out of 17 all Malamute teams
4th out of 16 all Malamute teams
We are over the moon with the tribes results especially with a few 'New' eager teams on the block.
Penny also  did a spot of Backpacking too .. carrying 30% of her bodyweight for 11 miles.. this saw her being awarded with another 2 backpacking titles..
Amwa Working Packdog Bronze 'AWPD'B' & AMCA Working Packdog 'WPD'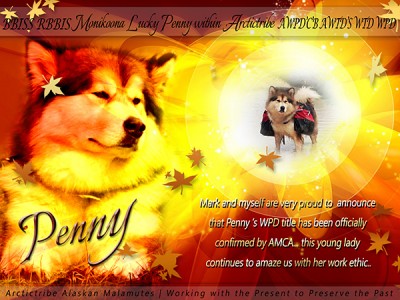 September
Arctictribe gets back to training for the impending 2015/16 winter working season, 5am starts heading out to train a few miles before work & school.  We also start backpack training at the weekends with the aim this winter to finish Leo's Gold award and carry on with Penny & Sampson's backpacking journey..
August
A month of getting ready for our annual holiday – the Fun/Training weekend on Salisbury plain run by AMWA.. As usual Arctictribe had a blast over these few days.. not really a relaxing break, more of an endurance holiday..
Some lovely memories were made once again at this event.. Sampson ran in a 4 dog team with his two sisters and Dam, granddad Tom was proud (and slightly scared) musher.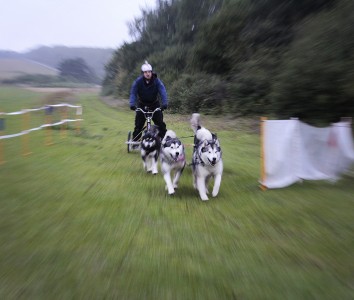 Penny entered the Fun dog show and ended up being awarded with BEST IN SHOW!!
July
July has been non stop with so many amazing memories being made..
First up we attend Windsor Championship CC Show with Leo and Penny.
Under well respected and breed specialist Judge Mrs Sharon Loades Penny is placed 4th / Reserve in Yearling Bitch and Leo is placed a fantastic 2nd place in Postgraduate dog!!.. This placing has Qualified Leo for CRUFTS 2016, Leo has now Qualified for CRUFTS every year of his life.. What a dog!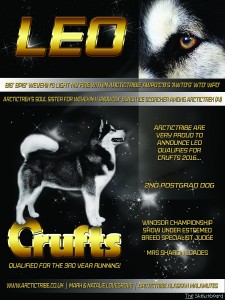 Then off  to AMWA Summer Camp – A lovely chill out weekend camping, camp fires, short plods, BBQ's, banter and not forgetting lots of fun canoeing in the River Thames!
A few photo's of a fab weekend
The very next weekend Penny and Natalie attend a duo of shows at the 3 Counties Showground, Malvern..
The first of the 2 shows sees Penny win her class being awarded with 1st Postgraduate Bitch!
The second show is our breed Clubs 'AMCUK's speciality show.. Penny blows us away with the placings…
1st Postgraduate Bitch
Best Bitch in Breed
Best Opposite Sex in Breed
This in turn makes her Best Bitch and Best Opposite Sex in Speciality Show!!!!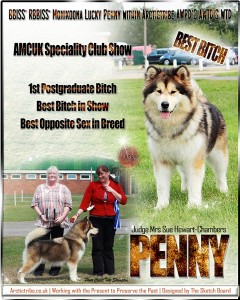 ****BBISS RBBIS Monikoona Lucky Penny within Arctictribe WTD' AWPD'C AWTD'S****
June
A nice relaxing month for Arctictribe (well for the Mals anyway

).. there was however one special event that took place…
Keira and Penny were invited along for a LIVE radio interview at BBC Radio Wiltshire, they had a wonderful time.. neither showing any nerves what so ever! .. They were asked all sorts of questions about their sprint racing winter hobby.. and what it felt like winning their first ever Junior Championship together..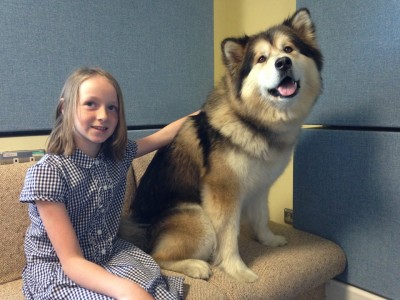 May
The first weekend in May saw the whole family attend AMWA's Cheddar walking weekend, a time to relax and take part in some beautiful walks around Cheddar gorge.  The dogs had a break from backpacking this weekend.
This month saw some wonderful health test results for Penny and Sampson.. seeing them both Clear for CD 'Cone Degeneration and PN 'Polyneuropathy.
Later this month the whole family attended the BSA fun weekend and 2014-15 working season award presentation.  They also held their Speciality Working Dog Show (held under Kennel Club rules)
Hayden and Sampson were presented with their 1st place Trophy and were declared BSA Junior Champions for the 2014-15 Sprint racing season!!
Both Leo and Penny entered the Speciality Show.. and well… what happened next was an absolute dream come true!!
Penny won her open bitch class and then went on to be awarded with Reserve Best Bitch in Show!!!!.. which makes Penny:
****RBBIS Monikoona Lucky Penny within Arctictribe WTD' AWPD'C AWTD'S****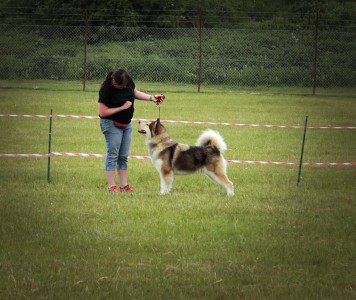 It doesn't end there.. Leo also wins his class and is then awarded with Best Dog in Show!!! .. This was wonderful but he wasn't content on that and in the final challenge between the best dog and best bitch.. he was awarded with the highest honour possible…. BEST In Show!!!
Leo will now be known as:
**** BIS' BPIS' Weyekins Light My Fire within Arctictribe WTD' WPD' AWPD'C'B'S AWTD'S ****
April
The Easter Weekend saw the whole tribe attend AMWA's annual Weightpull competition in Norfolk.. A wonderful relaxing long weekend spent with good friends was had.. as well as Penny and Sampson's very first Weightpull comp ..
With only one practice in Novice both the youngsters did fantastically .. Sampson was the absolute star coming 2nd in his class with only a couple of inches between him and 1st place! .. He obviously enjoyed it very much so we may enter him into more weightpulls next winter..
Photocredits Denise Maguire
The weekend after, Penny and Leo head down to the New Forest with Natalie, they meet up with good friends Michelle Anderson, Siri & Chara to do a spot of Backpacking..
The weekend consisted of 2 x 10 mile backpack walks , 1 in the evening and 1 at dawn the next morning.. The overnight was interesting in a 2 man tent for Leo, Penny & Natalie.. Lots of laughs and chatting over the weekend as well as Miss Penny literally taking up most of the room in the tent, stretching out on her back much to the dismay of Leo and Natalie!!..
Over the weekend Penny did however start her AMCA Working Packdog Title carrying 30% of her bodyweight over the  20 miles, aswell as completing 2 AMWA Bronze Backpacking legs.. Leo also carried 30% of his bodyweight whilst doing a spot of training..
The rest of the month was taken up by some intensive backpacking for Leo.. in back to back weekends he backpacked a total of over 60 miles carrying 30% camping out in the wilderness areas of the Brecon Beacons national park/Wales.. One weekend with Mark and the next with Natalie.. a lot of wonderful memories were made and to top it off he has gained 2 of the 3 legs needed for his AMWA GOLD level backpacking award.
At the very end of the month saw the working & showing standings for the Alaskan Malamute Club UK being announced.. and wow.. our tribe did so amazingly well!!!!
Penny: MONIKOONA LUCKY PENNY WITHIN ARCTICTRIBE AWPD'C AWTD'S WTD…
6th Top Working UK Bitch
Leo: MULTI BPIS WEYEKINS LIGHT MY FIRE WITHIN ARCTICTRIBE AWPD'C'B'S, AWTD'S, WTD, WPD
10th Top Working UK Dog (only 6 rally events!!)
6th Top Special Beginner Dog (under 10 shows!)
Sampson: RBPIS NORTHSPIRIT BORN FOR GLORY WITHIN ARCTICTRIBE (Rcc'stud book no) AWPD'C, WTD
4th Top Working UK Dog
6th Top Show Puppy Dog
4th Top Special Beginner Dog (show)
19th Top Adult Show Dog (approx 10 shows!!!)
Very very proud of our tribe especially with this being Penny & Sampsons 1st working/show season…
The working placements do not include weightpull standings due to not attending any this season, they have all showed promise in novice class..
March
The very start of this month saw Leo, Penny & Natalie attend the AMWA 2 day Trek in Dyfnant, Wales.. What a wonderful time was had trekking around the very beautiful but also very challenging Dyfnant Forest! – (there were definitely more ups than downs!!..) 2 days of over 13 miles earned Leo and Penny their AMWA Silver Trek Dog Awards.. also this enabled Penny to complete her AMCA WTD – Working Trek Dog requirements.. A very tough 2 days but lots of good memories made and a huge sense of achievement.
A week later saw Leo & Natalie attend the worlds most prestigious and largest Dog Show.. CRUFTS 2015.. A really lovely day catching up with friends, also Leo seemed to be quite the public magnet.. Lots of fuss and belly rubs whilst surrounded by groups of strangers.. and then performing faultlessly for his moment on the Green carpet.. Once again he took the whole day in his stride.
The very next day saw the last Rally of the British Sleddog Activities BSA 2014/15 season.. Leo ran with last seasons team mate 'Ria' and surrogate human Dad 'Adam' .. they stormed round the trail coming a wonderful 3rd place in the 3 mile night race.
Penny, Sampson and Mark also competed and earned themselves an AMCA WTD Racing leg..  with their average speed nearly 11mph ..
Another Weekend, another Rally.. This time sees a 3 stage day/night race run by AMWA at Swinley Forest.  Penny, Sampson and Mark had 2 fantastic runs and 1 not so due to missing a marker and doing an extra 3/4 mile more than they should have done.. despite the mishap the team came 6th the first stage, then 2nd on the night stage.. and 2nd again on the final stage.. a very respectable 4th place out of 12 all Malamute teams!
The children also competed both completed their 2 stage Junior competitions.. A lot of fun was had with 4 faultless runs over the weekend..
Hayden & Sampson came 1st overall.. but not to  be outdone.. Keira and Penny also came 1st in the younger Junior competition!!..
This rally also saw the presentation of the 2014/15 AMWA Rally Championship.
We are over the moon with our teams final positions..
Sampson, Penny and Mark came 4th out of 22 teams… Penny and Sampson were the youngest combined team in the M2 Championship !!
Then onto the Junior Championships…
We are absolutely blown away to announce that both Hayden & Keira with their team mates over the season.. Penny, Sampson & Leo took both the top No'1 spots, Hayden in the older Junior 'J1′ class, and Keira in the younger Junior 'J2′ class.. meaning we now have 2 Junior UK Rally Champions at Arctictribe!!….
One last rally to end Arctictribe's 2014/15 racing season… This time at the very first 'Firle Challenge'.. a last bit of fun for the last race saw Mark+Penny & Natalie+Sampson go head to head in the 1 dog Freight Class.. a huge amount of banter and fun over the 2 stage competition was had, even the weather was not kind!!!…
The times were very close indeed but in the end Natalie+Sampson took the top spot with 1st place, and not far behind saw Mark+Penny take a very respectable 2nd place!!..
February
This month we take full advantage of the cold weather and unfortunately cancelled Rally's..by Trekking and Backpacking.. a few legs towards Penny and Sampson's UK AMWA Bronze backpack award and their American AMCA  Working Team Dog award were completed.. They are proving to be very multi purposed Working Malamutes…
Also this month Penny does a spot of School visiting.. We were invited to a local Primary School to show Class R (5-6 yrs) a Sled and if possible an actual Sled dog.. We jumped at the chance and went along with Wooden Sled, Penny and her Harness.. She was an absolute star meeting and greeting the youngsters and letting them stroke her one at a time.. she also sung a little too.. which was very well received by all the children…
January
After a lovely family Christmas Arctictribe wastes no time, and gets out into the Cold weather.. a long time coming this season!!
The very first Rally of 2015 see's the due 'Penny & Sampson' complete another 2 day event with Mark and being placed as the fastest Alaskan Malamute team in their class yet again! .. A fantastic first result..
At the same event Sampson and Hayden compete in the Junior 2 day event and are awarded with 1st place.. !!
And in the untimed younger Junior class Keira is safely taken around the trail by Leo..
The next event in the month is a trip to Boston Championship Show for both Sampson and Leo to strut their stuff.. (and a chance for them to have a mid working season bath!!)
The boys absolutely wow us with some fantastic results..
Sampson is handled by Ayla to win 2nd in his first ever Graduate Dog class against more mature competition.
Leo is handled by Natalie and wins 1st Place in Post Graduate Dog which entitled him to enter the Best Dog in Breed challenge!!
A very special mention must also go to Memphis (Sampson's litter sibling) who handled by Ayla won 1st Place in Junior Bitch Qualifying her for Crufts 2015 at her 1st ever show!!
The next weekend sees another Rally event, this time in the Forest of Dean..
The duo 'Penny & Sampson' with Mark battle the trails on this 2 day event to come 2nd place all Malamute Team.
Also Sampson and Hayden are placed 1st in their Junior unsupervised, timed class.. another wonderful weekend!
With the weather finally cool enough Sampson and Penny complete their very first Working Titles.. On the 25th January they are both awarded with AMWA's Working Pack Dog 'Copper' Title..
They can now proudly be known as: